Providing Best Solutions
Every time you smile at someone, it is an action of love, a gift to that person, a beautiful thing.


We are family friendly facility. Bring your family members and we will happy to assist any ages from kids to elder.
Here at Alex Tsai Dental we believe that a healthy body starts with a healthy smile
Our Staff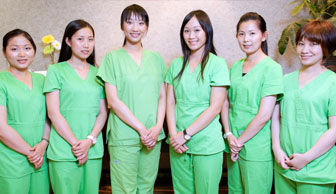 A smile is an inexpensive way to change your looks.
We are a full service facility and provide fillings, dentures, braces, bridges, implants, children's dentistry, root canals, crowns, treatment of gum disease, extractions of wisdom teeth and more.
We are the Best
Looking for a dentist in Vancouver near Main Street?
Our Vancouver city dentists always put you, the patient, first. Our years of experience in practice and perpetuating edification guide our work. Our professional staff and dentists pride themselves on being some of the best in the business in Vancouver, British Columbia. We are always perpetuating to learn and ameliorate our cognizance base in order to maximize proven incipient methods and technologies and provide our patients with the best available care.
Our goal is to provide you with a unique experience to optimize your overall dental health. Our Vancouver dentists provide the finest quality in the Main Street region and have hand-picked a team of knowledgeable and caring professionals. Our staff members are here to support you and ensure that not only are all your dental needs met in a professional and comfortable manner, but that you also receive an incomparable patient experience. We strive to not only provide our patients with excellent dental care but also to educate and inform all our patients on their dental health. At Alex Tsai Dental we know that knowledge is power and we seek to empower all our patients. Our number one goal is to have every patient leave our office with a smile after every visit.
Our team of doctors provide services in English, Mandarin, Cantonese and Japanese.